Details
Package ID

gpu-z

Version

2.1.0

Downloads

5192

Website
Summary
GPU-Z - the Graphics Card Information Utility
Description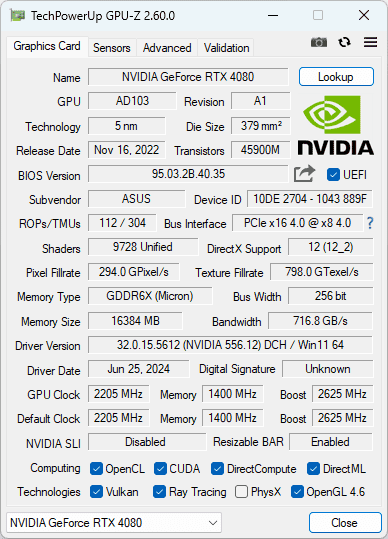 GPU-Z is a lightweight utility designed to provide you with all information about your graphics card and GPU.
####Main Features
Supports NVIDIA, ATI and Intel graphics devices
Displays adapter, GPU and display information
Displays overclock, default clocks and 3D clocks (if available)
Includes a GPU load test to verify PCI-Express lane configuration
Validation of results
GPU-Z can create a backup of your graphics card BIOS
No installation required, optional installer is available
Support for Windows XP / Vista / Windows 7 / Windows 8 / Windows 10 (both 32 and 64 bit versions are supported)
… and yes, the author of CPU-Z has granted us permission to use a name similar to his product. Thanks Franck.
PACKAGING NOTE 1: Binary is included. This package will make an icon on your desktop. It does not actually "install." When you run GPU-Z it will give you the option to install or run stand-alone. PACKAGING NOTE 2: GPU-Z is updated frequently. If installation fails due to a new version, please leave a comment on GitHub and I will get to it ASAP.
Comments